Love it or hate it, le tour is now done. Congratulations to the skinny boy with the longest eyelashes.
I had a le outfit day. Went to check out some time trial last week at a friends house, accompanied by his new ice cream machine-maker-gadget, he shared with us all, home made pistachio ice cream. I don't like ice cream much but, I make exceptions when with friends if we all go get ice cream, or of course, if they make it. Fabulous. Good stuff.
Speaking of le tour, let's celebrate the frenchie's bday, I assume it's in July, since it is a 'le tour de france' model after all. Anyhow.
Tshirt is by trackstar, think I got it 1-2yrs ago. 7am game face included….
j'adore ♥my tandem love necklace

Above and below: Pegasus wall and the fog-sun sunset view /Berkeley.

Watch out cavendish, the frenchie is watching your silly grinch green lycra pants, mate… and will beat you to the closest coffee shop you don't quite yet – know about.
(REUTERS/Bogdan Cristel) via boston.com_theBigPicture
Photo by Devin.
And just for kicks, I found this over at a daily read and longtime inspiration, the fat cyclist.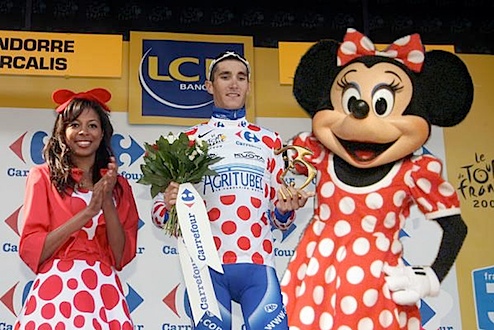 I Have Three Tour de France-Related Questions by fatcyclist.com
After this weekend, I feel I should be wearing some polka-dot tights, but more on those hill climbing adventures soon. ♥xo/m